Advanced Quantity Surveyor Apprenticeship
MSc Advanced Quantity Surveyor (Apprenticeship) Level 9
The Advanced Quantity Surveyor Apprenticeship is a programme of structured education and training combining workplace learning with learning at the Technological University of the Shannon (TUS). Apprentices are employed allowing them to 'earn while they learn.'
Once completed, graduates will have gained valuable experience as well as a Master's degree – Advanced Quantity Surveyor. With the high demand for Quantity Surveyors in Ireland, Graduates can look forward to excellent job opportunities!
This apprenticeship is:
Industry-led by a consortium of industry and education partners

Leads to an award at Level 9 on the National Framework of Qualifications (NFQ)

Flexible – delivery is a blend of on-the job and off-the-job learning

2 years in duration

50% on-the-job learning
The employer pays the apprentice for the duration of the apprenticeship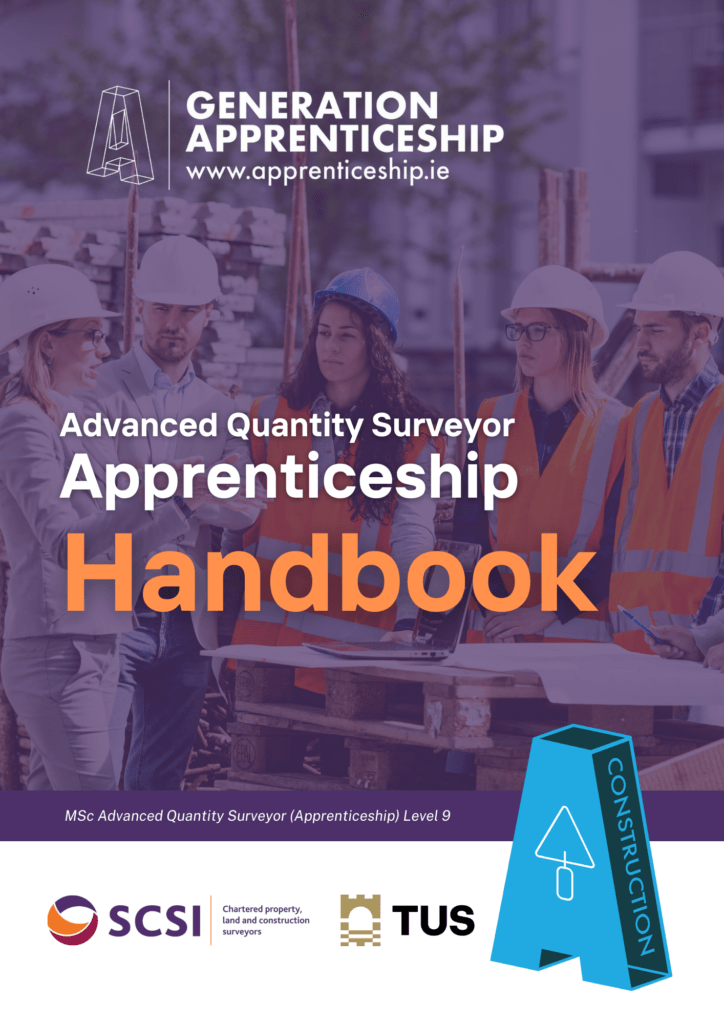 You will be trained and assessed both on and off the job. The training is set out in phases so that you will get to put your skills into practice on the job at the end of each period of training off the job.
There are 30 credits each semester with 120 total. 
Semester 1: 2 days per week in TUS, 3 days on-the-job
| | |
| --- | --- |
| Module | Credits |
| Measurement | 5 |
| Procurement & Tendering | 10 |
| Project Management & BIM | 5 |
| Construction Economics | 5 |
| Land Use Planning | 5 |
| Total | 30 |
Semester 2: 1 day per week in TUS , 4 days on-thejob
| | |
| --- | --- |
| Module | Credits |
| Competencies Register & Reflective Diary | 10 |
| Work Based Capstone Project – 1 | 5 |
| Knowledge Management | 5 |
| Cost Planning & Value Management | 10 |
| Total | 30 |
Semester 3: 1 day per week in TUS , 4 days on-thejob
| | |
| --- | --- |
| Module | Credits |
| Strategic Contract Management | 10 |
| Measurement | 10 |
| Capstone Research Project 2 | 10 |
| Total | 30 |
Semester 4: 1 day per week in TUS , 4 days on-thejob
| | |
| --- | --- |
| Module | Credits |
| Commercial Knowledge | 10 |
| Capstone Research Project 3 | 15 |
| Risk Management | 5 |
| Total | 30 |
Both apprentices and employers benefit hugely from taking part in this programme. Some of these benefits include:
SCSI Accreditation & Chartered Membership
The programme has been designed having an eye to the standards set out by the SCSI. The programme has been mapped against the professional competencies identified within the SCSI Quantity Surveying pathway and is accredited by SCSI, providing a route to Chartered Membership for all graduates of the programme.
Students registered on this programme can begin their Assessment of Professional Competence (APC) leading to Chartered Membership with SCSI simultaneously while studying.
To begin the Apprenticeship you will need to source a registered employer working within the sector. You can do this by contacting employers working in this sector, or by applying to TUS. 
Visit our Apprenticeship home page to see apprentice jobs available. 
The minimum entry requirements for the programme are as follows:
A primary honours degree (Level 8) in a built environment programme with a minimum award of 2.2.

Have successfully completed a Post Graduate Diploma in a built environment programme.
An appropriate professional built environment qualification (i.e. Chartered membership of the SCSI, EI, CIOB etc.) and at least 2 years relevant professional experience/responsibility.
A primary honours degree (Level 8) with a minimum award of 2.2 and at least 5 years relevant professional responsibility and experience within the built environment and/or ability evidenced by an RPL portfolio of prior experience and learning.
International & Special Case Registrations:
Equivalent Qualifications. Applicants with equivalent qualifications on the European and International frameworks will also be considered.
Special Case Registrations: Prospective participants who do not meet the entry requirements for the programme detailed above, but who may qualify for admission by meeting certain other equivalent criteria, should contact the consortium team for advice in the first instance. Note: An interview may form part of the selection process for special case registrations.
An annual student registration charge of €3300 per year pre apprentice is required. This can be paid by the apprentice or the employer on their behalf.
The Advanced Quantity Surveyor Apprenticeship is open to all Quantity Surveying and related companies within Ireland. The company must have direct involvement in Quantity Surveying to allow the apprentice to achieve the learning outcomes of the programme. Apprentices can be appointed from within an employer's existing workforce or can be recruited as a new resource.
The company must get approval to train apprentices. To do this companies must demonstrate that you have the capacity and the ability to provide quality, relevant on-the-job training to apprentices. You must also allow the apprentice to attend all classroom / online learning days and these days count as workdays.
If you have questions, please contact the SCSI team at education@scsi.ie or get in touch with us online. 

Apprentices will be assessed through a blend of coursework and final examination. A key component of assessment will involve maintenance of a competencies register and reflective diary, which apprentices will maintain online via TUS's Moodle website. Assessment of the diary will be conducted by TUS staff who will interact with the apprentice both online and in person and will conduct an industry visit as part of the assessment.
Every apprentice will be assigned an Academic Supervisor from TUS to support them through their experiential learning. The Academic Supervisor will be the primary contact in college for the Industry Mentor, and for the apprentices in following their progress throughout the apprenticeship. There will be at least one visit by the academic supervisor to the apprentice in the company. If an onsite visit cannot be facilitated, then it can be carried out via an online meeting.
Apprentices are paid a full-time salary by their employer.
How much does the programme cost?
Employers are required to cover fulltime employment costs of the apprentice including the day release for off-the-job training during the academic semesters.
An annual student registration charge of €3300 per year pre apprentice is required. This can be paid by the apprentice or the employer on their behalf.
How do I become an approved employer?
Step 1: Employer submits an Expression Of Interest on www.apprenticeshiponline.ie.
Step 2: Consortium Engagement with Employer
Employer assessment begins with a visit from the Consortium team of SCSI & TUS to provide information to you on the programme and to confirm that you can:
recruit and support an apprentice by providing time and equipment necessary to support both on the job and off the job training.

provide appropriate and sufficient on the job experience to align with programme outcomes.

provide a suitably qualified mentor to support and guide the apprentice in the workplace.
Step 3: Consortium Engagement with Authorised Officers
The consortium will submit paperwork to Solas Authorised Officers (AO's) to confirm the completion of the actions outlined above with a recommendation on employer suitability.
Step 4: Authorised Officer Engagement with Employer
The AO reviews the material submitted and arranges a site visit with the employer to assess their overall suitability.
Step 5: Approval
The consortium will communicate the outcome to the employer and on approval, the employer will be authorised to register potential apprentice(s).
What are my responsibilities as an apprentice employer?
As an employer you should ensure that:
you have identified suitable employees to act as mentors to the apprentices. Mentors will be provided with training.

appointed mentors hold either SCSI Chartered Membership or a Level 9 qualification in a cognitive discipline with at least two years postgraduate experience in a QS-based role.

you are able to release the apprentice for academic training as required.

you can give the apprentice access to relevant systems and processes to support their learning.

you are familiar with the

Apprenticeship Code of Practice

and that a copy is also provided to all mentors and apprentices.

This Code of Practice is intended to assist both employers and apprentices to understand their duties and responsibilities. Apprentices and employers must accept this Code of Practice as part of the employer approval and apprentice registration processes.
How do I recruit an apprentice?
Once approved, employers will be able to login to the Employer Portal at apprenticeship.ie to advertise vacancies. Marketing materials and support will be provided by the Consortium team to approved employers.
Employers can also advertise apprenticeships on the SCSI website free of charge.
We're here to help!
Whether you are wondering about course, trying to find an apprenticeship or have career questions, the SCSI Education team are here to help.
Call the SCSI Education team at 01 644 5500 or click to contact us by email at education@scsi.ie click to book a free 1-2-1 chat.
Select pages below (delete this heading)