SCSI House Rebuild Calculator
A Guide to Calculating House Rebuilding Costs for Insurance Purposes
Are you renewing your home insurance and unsure what rebuilding cost you need to insure your home for in the event of a majorly incident such as a fire? This guide, developed by the Society of Chartered Surveyors Ireland (SCSI), provides average rebuilding rates which you may find helpful.
Before the rebuilding figures provided are used in your calculations, please read this page in full. 
The rebuilding rates are for speculatively built homes i.e. estate-type homes and should not be used for other house styles such as one-off homes in the countryside or period properties.
Homeowners should consider getting professional advice to be assured that the correct rebuilding rates are used in these instances.
The SCSI does not provide advice to consumers on appropriate rebuilding figures for individual properties.
This guide was published on 15 September 2022.
---
Important notes on the assumptions built into the calculator
The figures shown in the table are a MINIMUM base cost guide for your house insurance.
The figures assume a standard quality specification with normal foundations, timber frame or brick/block walls, cladding, slate/concrete tiled roof, concrete ground floor and timber first floor, softwood flush doors and double-glazed windows, painted plaster to walls, plastered ceilings, and standard electrics. Heating and thermal requirements to include insulation, minimum air-tight construction, humidity wall vents, and heat pump to latest BER ratings.
The sum insured should be increased to allow for better-than-average kitchen fittings, built-in wardrobes, finishes and any other items not normally included in an estate-type house. House contents such as carpets, curtains, furniture, etc., are not covered by the figures.
No allowance has been made for the cost of outbuildings, these should be added with a best estimate cost into the calculator. The figures do, however, allow for a concrete path around the house, for driveway and re-grassing and fencing. If you select rebuilding costs including a garage the prices estimated are €19,500 for a single attached garage and €35,200 for a double attached garage, on average.
The figures allow for demolition costs, professional fees incurred in reinstatement and VAT at 13.5% on building costs and 23% on professional fees.
Professional fees have been calculated to cover the following services:
Building Surveyor/Architect/Engineer: prepare working drawings and specifications and administer the building contract.
Chartered Quantity Surveyor: invite and examine tenders, process payments and agree on final account.
Engineer: advice on structural issues.
Fees associated with the certification of the house under the Building Control (Amendment) Regulations 2014.
Whilst every effort has been made to ensure the accuracy of the information contained in this publication, the SCSI does not accept liability of any kind in respect of, or arising out of, the information, or any error therein, or the reliance any person may place therein.
---
Getting Started – Measuring your home
If your house conforms to the standard types in the included table of costs, you can use the following method to give a broad indication as to the amount for which you should insure.
Calculate the internal area of your property by measuring the internal finish of the perimeter or party walls within the property, ignoring skirting boards, at each floor level.
For two or three-storey houses, normally the upper floor is the same as the ground floor. However, if it is different, you should calculate each storey separately to retrieve a more accurate area calculation. Once you have all the areas, add them together to get the total sq.m area.
Consult the SCSI calculator and choose the appropriate house type and region and insert your total floor area and add the cost of a garage if applicable.
You should add higher-than-average kitchen fittings, finishes, etc if appropriate. You should also add for any other outbuildings e.g. studio, office.
It is essential that you re-assess your level of cover every year, based on current average rebuilding costs, making allowance for any improvements or extensions that you may have made since your last renewal date. For professional advice, contact your local Chartered Quantity Surveyor.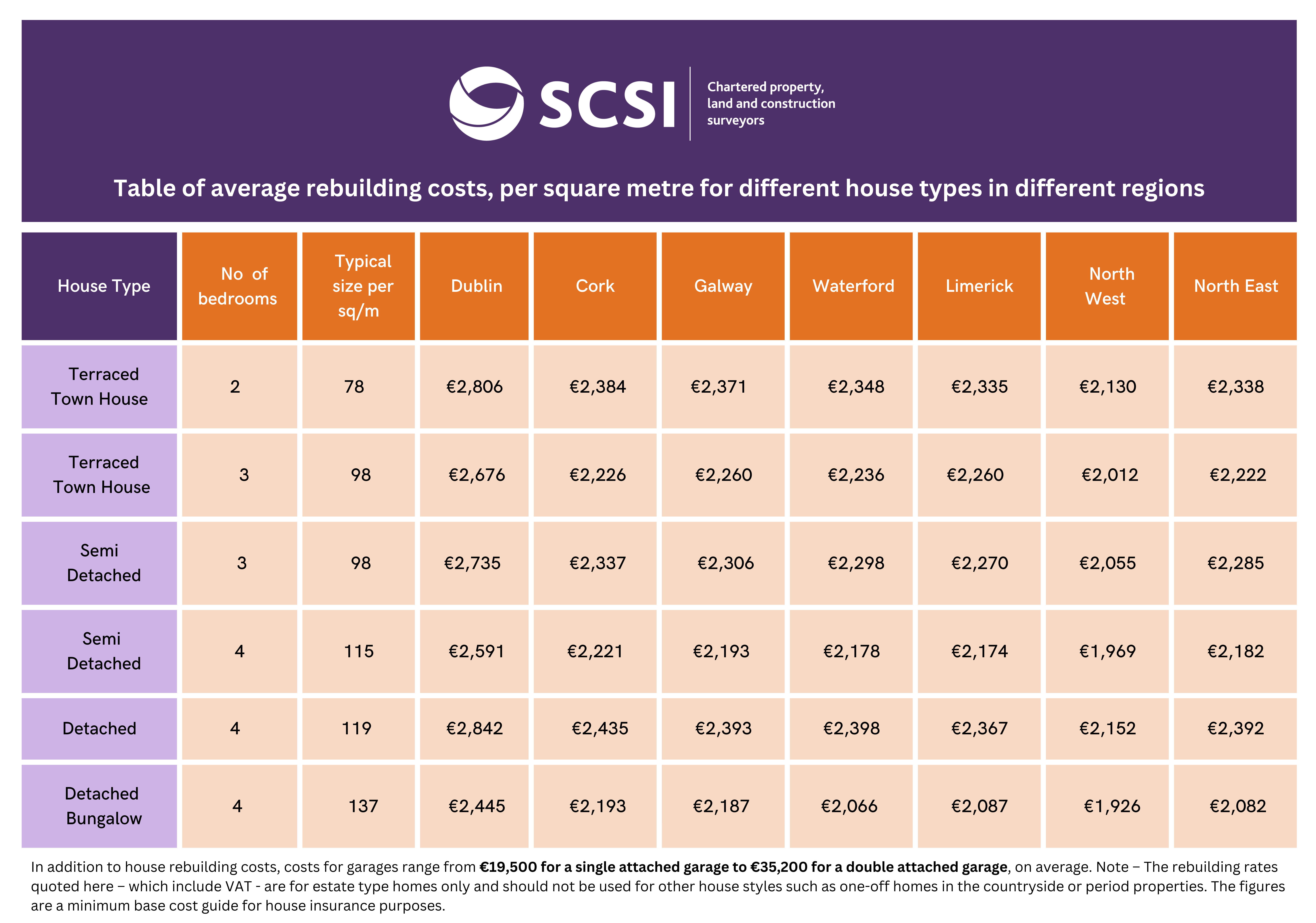 Frequently Asked Questions
What house types are covered under the SCSI Insurance Rebuild Calculator?
The calculator only covers estate-type houses built in Ireland since the 1960s. The calculator does not cover properties with more than three storeys or with basements, bespoke properties or period houses (Victorian/Georgian) and it also does not cover apartments. Please refer to your management company/agent in relation to block insurance.
Why doesn't the calculator provide county-by-county rebuilding rates and all property types?
The SCSI Rebuild calculator is broken up into several regions that cover the entire country. Users of the Rebuild calculator are encouraged to select the region closest to their location. The guide only covers standard-type properties and anything outside of this may require professional advice. Contact your local Chartered Quantity Surveyor to get a quote for such work.
I've been told by the insurance company to contact the SCSI about the valuation of rebuilding my house, can you explain this to me, please?
It is important to use the correct terminology. The assessment of rebuilding costs for insurance purposes should not be referred to as a valuation. This is a separate matter. If your property is a unique or period property; for example, it is important that you consult with an appropriately qualified professional such as a local Chartered Quantity Surveyor for advice.
How can I measure my house?
Calculate the internal area of your property by measuring to the internal finish of the perimeter or party walls within the property, ignoring skirting boards, at each floor level.
What standard will my home be rebuilt to?
The SCSI house rebuild rates are guidelines and are the MINIMUM for which you should insure the structure of your house to current standards. The costs are calculated on a total loss situation, i.e., the house has been totally destroyed and has to be demolished and completely rebuilt to current building regulations. In addition to demolition and reconstruction, the costs also allow for Building Surveyors'/ Architects'/ Engineers'/ Quantity Surveyors' fee, and for Value Added Tax (VAT) at the correct rates at the time of printing this guide (15 September 2022). The rebuilding rates are set out above.
What is the size of my house?
The size of your house is the net floor area which is used for the purposes of the house rebuilding assessment.
How should I account for bespoke fittings and fixtures?
You should add to cover other costs, such as; special fixtures, non-standard fitted kitchens, high boundary walls, high specification bathrooms. Note that the costs do not include any allowance for contents such as carpets, curtains, loose furniture and domestic appliances. A separate insurance policy for contents is required.
Why does the calculator not give a quote for my non-standard house (I have 5 bedrooms and an extension)?
The calculator and guide does not cover all property types. Please contact your local chartered quantity surveyor for advice on rebuilding costs if your home is not covered under this guide. To find a local Chartered Quantity Surveyor who can assist use our 'find an expert' search at www.scsi.ie.
What happens if my home is not fully insured for a partial claim?
Homeowners who are not adequately insured may be penalised under their policy by having to pay a certain proportion of the reinstatement costs. Where the insured sum is only 75% of the total reinstatement cost, you may  only receive 75% of the agreed cost of reinstatement, whether the claim is made for partial replacement or total loss. For example, in the case of a house insured for €270,000, where the total reinstatement cost was €360,000, the insured party may only receive €270,000 to reinstate the house in the event of the total loss. In that situation the insured party may be obliged to provide the balance of €90,000. Similarly, if there is a partial loss, which costs €60,000 to repair, the insured party may only receive €45,000 and would have to provide the balance of €15,000.
SCSI House Rebuild Calculator